If you have misaligned teeth, braces are no longer the only option. Invisalign offers a discreet solution for teeth alignment so that you can straighten your smile without disrupting your life. Invisalign can help with a variety of orthodontic issues, and it uses clear aligners so that they are not noticeable while you are wearing them.
At Parkdale Family Dental, we offer Invisalign treatment for patients who want to straighten their teeth. Schedule a consultation to find out if you would be a good candidate for Invisalign or if another orthodontic treatment would be better for you.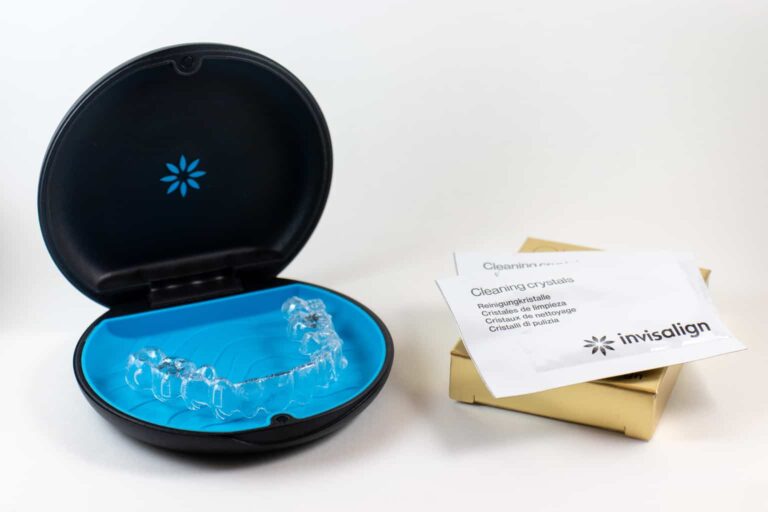 Invisalign is an orthodontic treatment method that has gained popularity over the last few years. This treatment uses clear aligners that fit over the teeth. Patients change out these aligners every few weeks, and each new set has a slightly different shape.
The aligners work to slowly push the teeth into better alignment. Invisalign aligners are virtually invisible, so it is a much less noticeable treatment option than traditional metal braces.
The length of your treatment will depend on your current alignment and your discipline when wearing the aligners. Usually, patients use Invisalign for 12 to 24 months. Patients who use Invisalign as a form of cosmetic dentistry to fix minor problems might only need treatment for a few months.
Who Would Be a Good Candidate for Invisalign in Parkdale?
Invisalign can treat many orthodontic problems. However, Invisalign works best for smaller issues and is not suited for major problems. If you have severely crooked teeth or need to move a tooth a significant distance in your mouth, your orthodontist may recommend braces or other treatment options.
Patients who have just a few alignment issues would be great candidates for Invisalign, as this treatment can quickly and seamlessly make adjustments until you have straighter teeth.
Invisalign is best suited for patients who have good oral discipline. Patients can remove the aligners, but they should only remove them for eating and drinking. Invisalign is best for people who can follow this guideline and who will not forget to wear the aligners for hours at a time.
Since patients need to wear the aligners consistently, they should also avoid snacking. If the patient only removes the aligners when eating breakfast, lunch, and dinner, then they will be following the treatment properly. For maximum efficiency, patients should wear the aligners for about 22 hours per day.
If you want to straighten your teeth with Invisalign, you should talk about it with our team. We will need to make a recommendation for you to receive the Invisalign treatment.
How Does Dental Hygiene Work With Invisalign?
Since patients can remove the aligners, keeping up with oral hygiene with this treatment is much easier. Keeping up with proper cleaning habits is also important. Aligners enclose the teeth, so any bacteria or food particles stuck in the aligners or your teeth could cause cavities or other issues.
You should thoroughly brush your teeth and floss after eating and after every time you put the aligners in your mouth. Doing this will keep your teeth clean and your mouth fresh.
Patients should also regularly visit our office for continued dental service. Regular cleanings and checkups can help patients know that they are practicing proper oral hygiene with their Invisalign treatment.
What Is the Benefit of Invisalign Over Other Orthodontic Methods?
Invisalign is a great orthodontic treatment option for many patients. Many people prefer Invisalign over other treatment methods because the aligners are clear and less noticeable than other methods. This option is great for adult patients who do not want to wear braces.
Invisalign usually causes less pain than traditional metal braces, as braces move the teeth quickly and can cause an aching pain. The brackets and wires on braces can also cut the inside of your mouth and cause scarring. Even though Invisalign treatment takes longer than braces, many people choose this option because it is much less painful.
Patients also choose Invisalign over other treatments because it is easier to maintain oral health. Since the aligners are removable, brushing and cleaning them is easy. The risk of discoloration from brackets or food particles getting stuck in the hardware is also not a problem with Invisalign.
If you are interested in straightening your teeth with Invisalign, contact our team at Parkdale Family Dental today at (03) 9580 2036.